Do you own your own business and want FREE adverstising & exposure!?
Now is your chance to be viewed by readers everywhere ... become a sponsor for Happy Panda's Cyber Shower...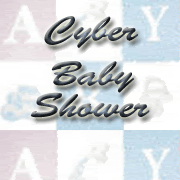 A big "Thank you" to
Happy Panda
for sponsoring my first cybershower!
I am due June 22nd...so I thought this would be a great way to involve everyone & share some wonderful prizes. Please come back often as we post more details about how the cybershower will work (or visit Happy Panda's
Blog
to learn more).