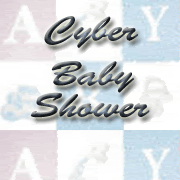 A big "Thank you" to
Happy Panda
for sponsoring my first cybershower!
I am due June 22nd...so I thought this would be a great way to involve everyone & share some wonderful prizes. The Cybershower will begin here starting April 28th and will last for one week!
Visit Happy Panda's
Blog
to learn more details and see what prizes we have for you.