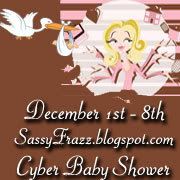 Stop by
SassyFrazz
this week (12/1 - 12/8) to participate in some fabulous games & win awesome door prizes from a variety of mom-owned businesses!
Here are my entries to win some prizes:
1.
The picture of the sweetest picture of Daddy's first picture with their new baby.
Daddy and baby Anna
2.
The person who guesses the correct birth weight of my second child, Caleb, who is now 3 1/2 years old. He was 3 days overdue, and I was induced with him.


Hmm...my guess, 8 lbs. 10 oz.
3.
The most creative creation of a baby and/or a pregnant Mom made out of play-doh.
(My creation will be coming soon...)